ADELAIDE'S HAUNTED HORIZONS
Now, what would a new blog site be without a polite introduction? Good manners would be to say "Hello... my name is...." and because I am a great believer in good manners here it is.
My name is Alison Oborn and I am the owner/operator of Adelaide's Haunted Horizons Ghost Tours or H.H. as we affectionately like to call it around here. H.H. has been a seed in my mind for many years now and recently, with a bit of watering, it began to germinate and push it's way through the dirt to the surface and finally found the light of day.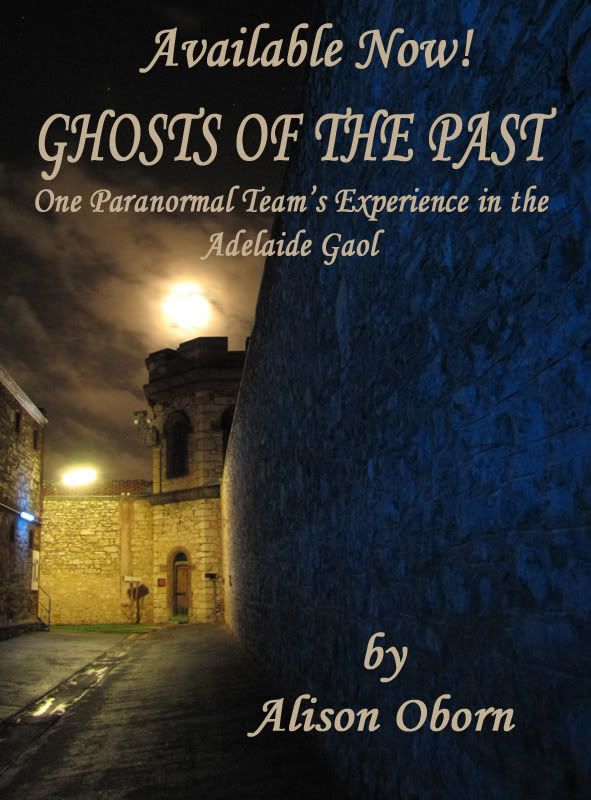 Having been into the research side of the paranormal for over 20 years, a Tour Guide for the Adelaide Gaol for over 7 years and having a strong and unwavering passion for both, it seemed like a natural progression.
I am also one of the founders of Paranormal Field Investigators, who have been the official investigators of the Old Adelaide Gaol since 2002. Much of what happened there can be read in the book I authored - 'Ghosts of the Past - One Paranormal Team's Experiences in the Adelaide Gaol'.
But enough about me and more about H.H. itself.
Because, over the years as an Adelaide Gaol Tour Guide, I could obviously never promise a 'ghost' on the night (something that would definitely have made my job so much easier... sighs!), I decided that it was still important for people to have a memorable and entertaining night. This was important both for the clients on the tour, the tour guide and the back ups as well. Soon, there seemed to be a happy balance of fun, frayed nerves and the merry sound of screams... whilst managing to throw in a bit of education to the mix at the same time. What I didn't buy into was tacky effects, over-dramatics and telling untrue stories. My passion as a researcher wanted to keep it real. I wanted people to be sure that if they experienced something on the night, then it certainly wasn't us! And this is the whole basis of the Haunted Horizons Ghost Tours... a fun, educational, scary but entertaining night where anything experienced is VERY real!
We have two venues at present that we hold tours in, the Adelaide Gaol and Old Tailem Town Pioneer Village. In future blogs we will explore these locations in more depth, especially the strange goings on that are commonly experienced there.
We also hold two different types of tours, with hopefully more to come (working on that... keep you posted).
ADELAIDE GAOL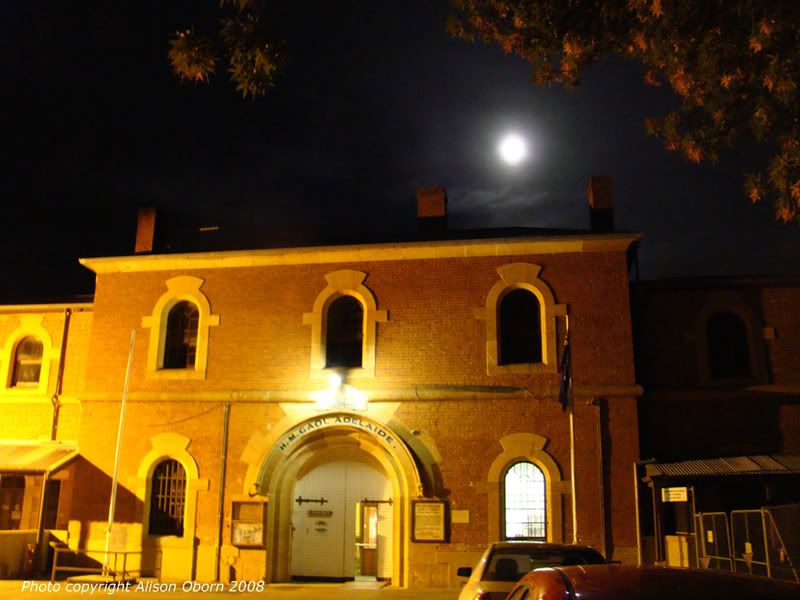 Although the Gaol still holds it's own Ghost Tours, which I still volunteer for, H.H. has now set up Paranormal Investigation Tours there. We realised not everybody wants to be part of a team or bare the costs of setting this up. A lot of people just want a small taste of being a 'ghost hunter' for the night and experience what it is really like. Well this tour was designed to help these people achieve this. It also allows both the beginner and the more experienced paranormal enthusiast access to this great location to investigate, something normally out of bounds to the general public under safe and supervised conditions.
TIME: 9.00 p.m.-1.00 a.m. (most Fridays unless Gaol Function on)
COST: $68 (prices subject to change)
WHERE: Adelaide Gaol, Gaol Road, Hindmarsh
Bookings Essential, numbers limited,
Age 15+
Private bookings available most nights
Please note bookings for these should be done through Adelaide's Haunted Horizons, NOT the Adelaide Gaol.
OLD TAILEM TOWN PIONEER VILLAGE
Although Tailem Town was built in the 1980's, the houses are very real and most are well over 100 years old with many old artifacts to give it all an authentic if not very creepy feel. Rumours have been coming out of this town for many years now and indeed strange things do seem to happen there not only on investigations but also on the tours themselves. Maybe, just because a house has moved from a location, doesn't always mean 'Energies' are left behind! So why not come and find out for yourself just what the town feels at a time the public are normally not allowed in... after dark!
TIMES: Most Saturday nights 8.00 p.m.-10.00 p.m.
COST: $28
WHERE: Tailem Town Pioneer Village, Princes Highway, Tailem Bend
Bookings Essential, numbers limited,
Private bookings available most nights
Paranormal Investigation Tours also available. Cost $58. Bookings only.
To book any of these tours please either Email
alison@adelaidehauntedhorizons.com.au
or ring 0407715866.
For more information on any of the above please visit
www.adelaidehauntedhorizons.com.au